8-Year-Old Writes Touching Yet Hilarious Letter About Grandparents
---
---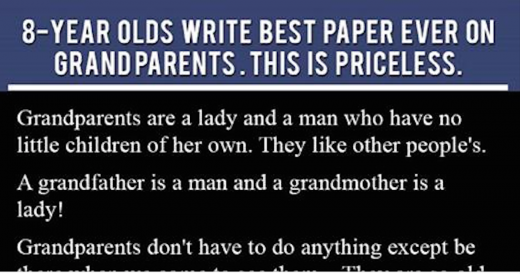 The cool (and sometimes awkward) thing about children is that they rarely have a filter. That means that they're prone to saying whatever's on their mind without giving it a second thought. Think back to any weird and wonderful conversation you've had with an eight or nine-year-old… surely there is enough entertainment and comedy in that one conversation to create one of the funniest comedy shows (cue Kids Say The Darndest Things).
But usually, these strange and hilarious conversation consists of things such as, "Why do I have to invite girls to my party? or, "Ew! Boys are so gross! ". This child however, has gone above and beyond to write a brutally honest, giggle-worthy yet moving piece about grandparents. His insights are pretty spot-on and his honesty has actually given many something to think about… and this is how it all begins.
---
---
Share with Love to your friends and family by clicking the button below.
Share on Facebook